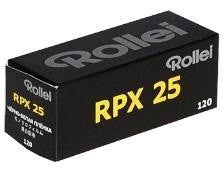 Rollei RPX 25 ISO 25/15 ° Panchromatic 120
Newest addition to the popular RPX family: Rollei RPX 25. 
With the Rollei RPX 25, we have a low-speed panchromatic black and white film with a nominal sensitivity of ISO 25/15 ° in our product range again.
The Rollei RPX 25 is characterised by a high sensitivity reserve of one f-stop, depending upon development. The thin-section document-emulsion is poured onto a highly transparent base and offers an extraordinary sharpness, with finest grain.
Developing Times

Spiral tank, deep tank, dip and dunk machines (min/20°C/68°F)

Developer

Dilution

25 / 15°

Rollei Supergrain

1 + 12

5

Rollei RLS

1 + 4

12 (24°C)

R09/Rodinal

1 + 25

6

R09/Rodinal

1 + 50

11

R09 Spezial/Studio

1 + 15

1 + 31

5:30

7

ID-11

1 + 1

8

PERCEPTOL

1 + 1

10

Kodak D-76

1 + 1

8

Kodak X-TOL

1 + 1

8

Kodak HC-110

B(1+31)

5

Paterson FX-39

1 + 9

8

Tetenal Ultrafin Plus

1 + 4

5
---
We Also Recommend